Being in search of the best web host option for a travel blog, online journal or store is immensely time consuming. Even though there is a great demand for a web host that offers an interphase that's fast and responsive with a good customer support. 3 attributes that are a must, if one is to keep up with the need for custom content in this data driven world. Very few options out there beat Bluehost. And, I will tell you why.
Founded in the year 1996, this web hosting brand, Bluehost has emerged as one of the biggest names as far as WordPress hosting is concerned. It has now achieved the status as the most endorsed hosting platform compatible with WordPress.
The platform Bluehost, ensures that your web interphase speed is enhanced, specifically if it's subject to a lot of online traffic from all around the world. Offering 24 hours professional customer service ready to give support via phone, email or through their chat portal.
They are by far the most preferred online hosting platform for small and medium enterprises. Offering exceptional features that are beginner friendly such as; a Free Domain, Free SSL, and a free Site Builder with a plethora of templates. In addition to these awesome benefits, users get to enjoy an exclusive 70% off Fuse Chronicles discount.
Pros
One of the most cost effective offering in the market
Free domain name
Free CDN + SSL
Amazing customer support
Officially Endorsed by WordPress
1-click WordPress install
Cons
Higher domain renewal price
Fuse Chronicles users get an exclusive 70% off discount and a free Domain!
(this discount is applied automatically at checkout)
A Travel Blogger's Expert Opinion Of Bluehost
By far one of the major players in the web hosting space, with the most compatible web host interphase with WordPress. Whether you are an ecommerce startup, an infomercial website or a travel blogger like me, Bluehost has a variety of plans to cater for your web needs irrespective of the services you have to offer.
Don't take my word for it, I subjected Bluehost to rigorous testing, analyzing promises made by this hosting platform and benchmarking it according to industry standards to see if indeed it is the right choice for businesses or people looking to have an online presence.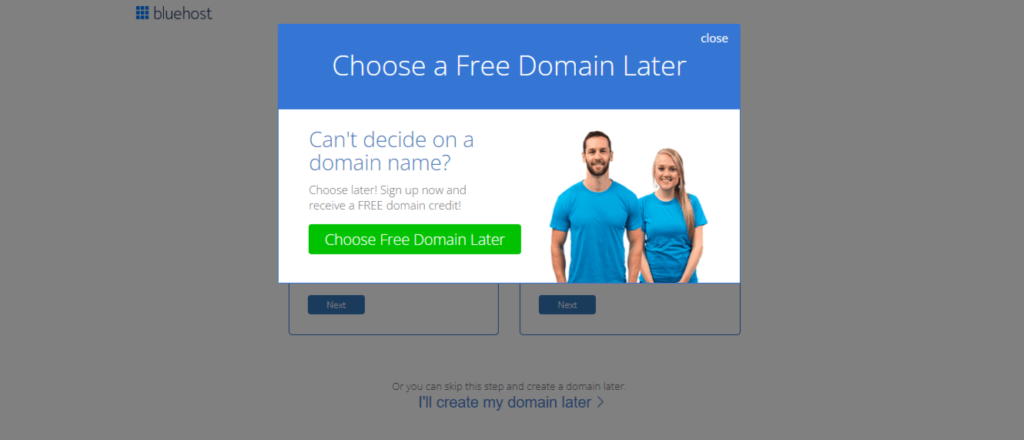 In testing functionality and usability of this web host platform I focused on;
The speed factor; the speed in which online platforms load on Bluehost. Assessing the swiftness and responsiveness of the server.
The Dependability factor; How dependable is it by virtue of its ability to keep your website running at all times without any glitch.
Peak performance; Does it hold up under heavy periods of traffic? I analyzed this by running a stress test to see how Bluehost responds under these conditions.
Assisted Support; How reliable is Bluehost in offering customer service support to its myriad of customers? Particularly when urgent assistance is required on a customer's website.
Cost; At what cost are their services offered, compared to industry standards? Do different cost-effective plans exist?
What is contained in each offering; Do you get all you need for a functional website?
I'll take you on a thorough analysis of Bluehost, highlighting all its merits and demerits so as to ensure you make an informed decision as to whether you subscribe to their services or not. I am also mindful that you might not have the patience to go through the detailed analysis, so find below a summary of my findings.
My Bluehost Summary Findings
Peak Performance score
A+
Mean load period
1.48 ms
Mean response period
1.26 ms
Free domain
Yes
Free SSL
Yes
1-click WordPress
Yes
Support
Email/ Phone/ Live Chat
Start with Bluehost
Summary Conclusion: As a travel blogger, I found Bluehost to be dependable, quick, and inexpensive with responsive round the clock customer support.
This is the reason why it goes without saying that Bluehost is given the title of best WordPress hosting company or at least one of the best in the world.
I am going to analyze Bluehost as a hosting platform, offering a travel blogger's unbiased opinion of all its features, so you can see whether its for you or not.
Blue….Blue…..Bluehost
Founded in the year 1996, this web hosting brand, Bluehost has emerged as one of the biggest names as far as WordPress hosting is concerned. Enhancing the speed and responsiveness of over 2 million online platforms around the globe.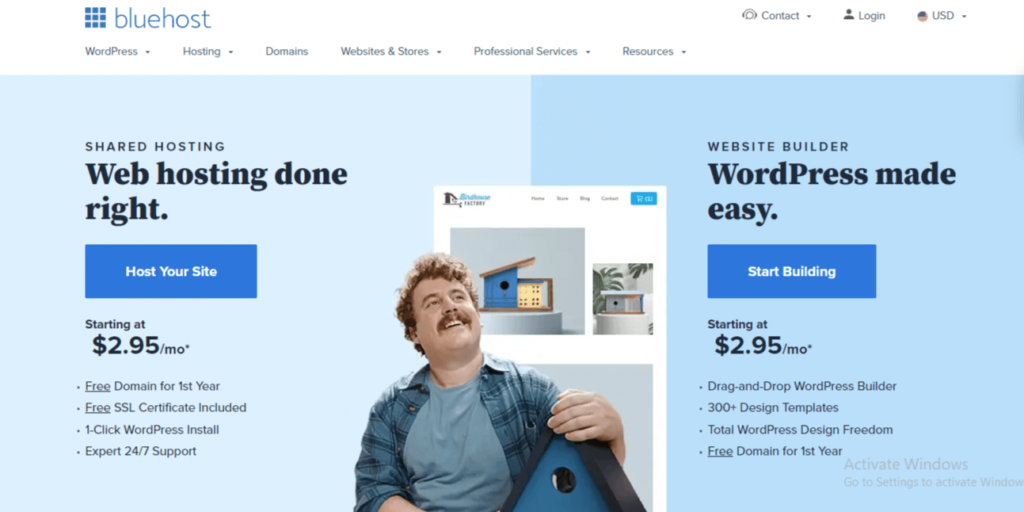 Tagged the most compatible hosting service provider for WordPress way back in 2006. So, whether you are a travel blogger like me or an ecommerce merchant with millions of people visiting your store everyday, you get complete round the clock access to their customer support, giving you an excellent hosting experience, particularly for those using open source platforms such as WordPress.
The Best Web Host Option For a Travel Blog – Merits And Demerits
No matter the sophistication or excellence of an online hosting apparatus, they all come with some form of benefits and disadvantages. Some of these challenges may be minor and manageable, however others might be too disturbing and cannot be overlooked.
Bluehost has some benefits and disadvantages all of which will be highlighted below;
Benefits
I am going to uncover the benefits that makes Bluehost the leader in the industry.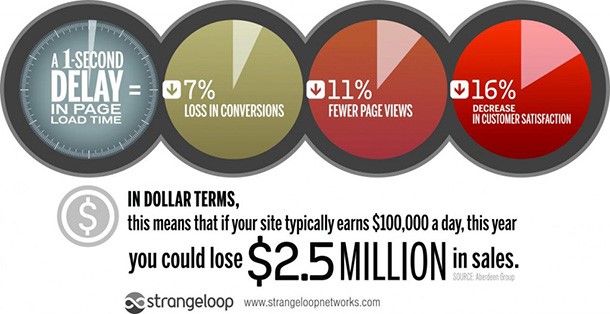 Rates
No matter your reason for seeking a hosting service, Bluehost has different packages that come at different prices, thus offering affordability.
Dependable
You could have multiple online stores, travel blog websites or a collection of small businesses with multiple online presences, with Bluehost you get a dependable partner with as little off periods (downtime) compared to other platforms in the industry that offers this service.
No surcharges
With this hosting service there are no phantom charges when registering as a first time customer. Fees quoted in the front end are final, you are not required to pay for anything else.
Buy 1 Get 1 Free
For every hosting account opened, you get a free domain for a duration of one complete year. Its one of the few companies out there that offers this incentive.
CDN + SSL Both Free
Bluehost offers SSL security certification per website free of charge as well as CDN by cloudflare which confers full protection against malware and other attacks.
Backed By A Guarantee
All packages come with a 30-day refund policy that see you receiving money paid for a package if you are not satisfied with service offered.
Demerits Of Bluehost
No matter how amazing a hosting service is, there is always a weak spot or spots. For Bluehost, this weak spots are;
Upward Review of Cost For Package Renewal
The cost of renewing your select package is quite high compared to other hosting companies in the industry.
A Plethora of Upsells
While creating a Bluehost account, there are a lot of upsell pop up offers that are quite inconveniencing. However, this can be declined by unchecking the necessary boxes.
The Performance Parameters Of Bluehost
It goes without saying that the only parameter that most people look out for when looking for a hosting company is speed. As user experience and optimization ranking of WordPress websites are both influenced by speed alone.
According to industry standards, a second lost in response time of your website could lead to a drop in the rate of conversion by at least 7% and a three seconds loss in response time could lead to as much as more than half of your traffic to your website (50% loss).

Speed Of Response with Bluehost
It's quite simple really, to get the best web host option for a travel blog, one with enhanced speed, you need a hosting platform that's exceptional. I know how important speed is, so I carried out a series of test to show how fast the load time is when performed with Bluehost as your web host using Pingdom the whole time as speed analyzer.
The results observed were awe inspiring. I saw load speeds as low as 1.48 seconds which in my opinion is simply ridiculous.
Its worth noting that no optimizer plugin was used to enhance the speed of the test website. Another point to take into consideration is the fact the test site has a lot of traffic coming in but still has a very low response time. However, in my opinion this is not enough as the sample size test carried out is too low.
To erase any doubt, I thought to have other users from different locations around the world access the servers of Bluehost to see if the load time is still the same. To do this a tool for testing known as loadimpact (now called K6) was used.
The aim here was to see how Bluehost was going to respond to request from connections emanating from multiple locations in order to get a sense of consistency. The results gotten are displayed below.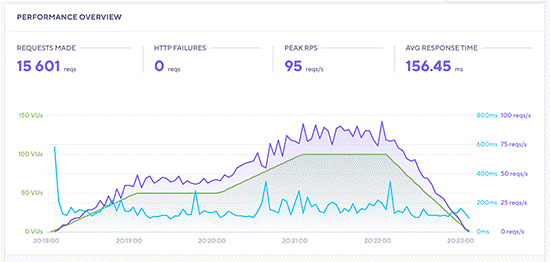 Bluehost Performance Analysis Explained
The amount of users accessing this particular website at the time of the test is signified by the green line. Bluehost server speed is represented by the blue line. Notice how consistent the load caused by traffic was during the whole test procedure.
There were no off periods (downtime) experienced during the test period. It's common practice for web hosting companies to make bogus promises on percentage uptime (most put this percentage at 99%). So, in order to obtain the statistics related to uptime for Bluehost, I ran series of test which are displayed below.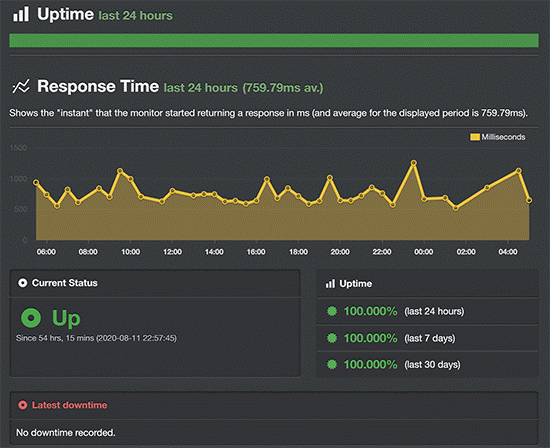 What Does A Travel Blogger Think Of Bluehost Server Response Time?
I tested websites hosted by Bluehost using the speed analytic platform, Pingdom to record the time taken to load all contents of the subject website used. Content included both visual contents like pictures as well as videos and text.
In order to correlate data gotten from response analysis using Pingdom and to ensure that results obtained were of high precision another software was deployed to help confirm the previous test carried out. This software was Bitcatcha. This of course is very different from Pingdom, because it helps you test speed without necessarily loading web content.
 As can be seen from results obtained from Bitcatcha, the United States offered the lowest response time with cities of other countries coming out slightly higher. This simply means that if you intend to get faster response time, you will have to choose a U.S server to get a faster load time.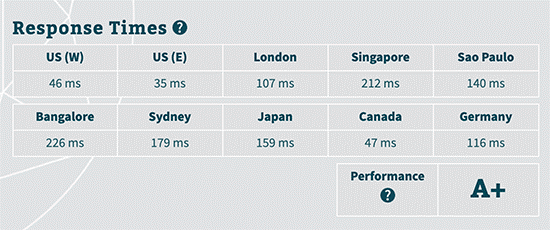 What Packages Can You Find In Bluehost?
No matter your financial situation, Bluehost offers a hosting package that suits your needs. Packages range from cloud hosting, dedicated server plan, vps, shared hosting, managed WordPress hosting all the way to Ecommerce hosting.
I'll now itemize each package, highlighting key features that sets them apart.
Cloud Hosting
This plan offers efficiency by combining more than one cloud server. Ensuring that it's possible to move from one server to another in case of system glitches, crashes or in times of peak traffic. The cloud hosting plan is a class above the shared hosting plan.
Dedicated Server Plan
This offers you the ability to optimize the Bluehost server offering yourself, because you are in charge of managing all resources associated with this server plan. This plan is usually for IT professionals who know their way around the integrity of this system.
Virtual Private Server Hosting (VPS)
This plan affords you the opportunity to share hosting resources in a virtual environment with other users. Just like the cloud hosting plan, it is a class above the shared hosting plan.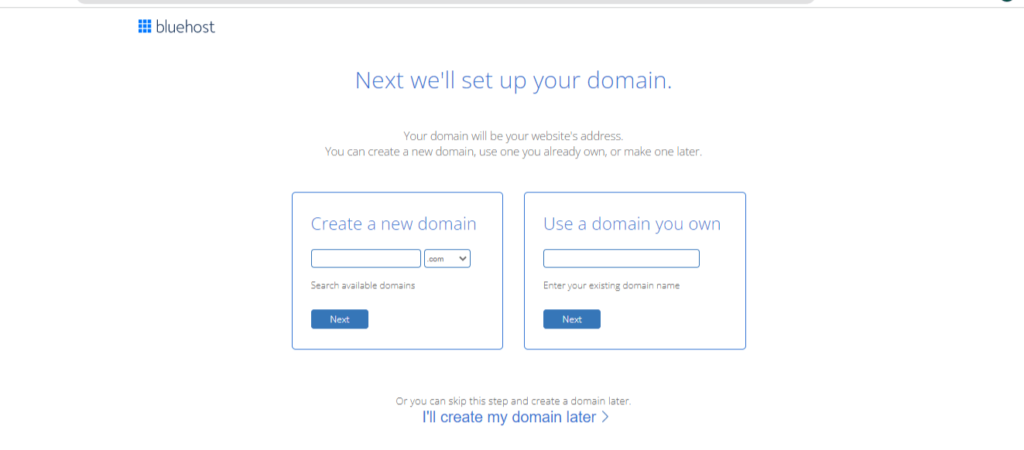 Shared Hosting
This is a beginner friendly plan for travel bloggers like me or ecommerce operators that are just starting out and whose websites do not entertain high traffic. Server resource is usually shared with other online platforms (websites).
Managed WordPress Hosting
This plan is tailor made for websites that are powered by WordPress. Optimized to speedily and seamlessly run all WordPress plugins as well as offer security against threats that might compromise your website.
Ecommerce Hosting
This plan offers entrepreneurs the opportunity to own ecommerce stores with ease by giving them the chance to run different plugins related to ecommerce on WordPress. For those looking for an alterative to shopify this is the closest substitute. You can start an online store which is superfast irrespective of the amount of traffic accessing it daily.
All packages offered by Bluehost are compatible with WordPress and can be installed on a 1-click basis. All settings can be toggled from a control panel that can be accessed as soon as a hosting package is chosen and paid for.
All You Need To Know About Shared Hosting From Bluehost
As mentioned earlier, the shared hosting plan is a beginner friendly package which comes with 4 levels of entry.
How much is required to access each level? Well I'll seek to break that down shortly.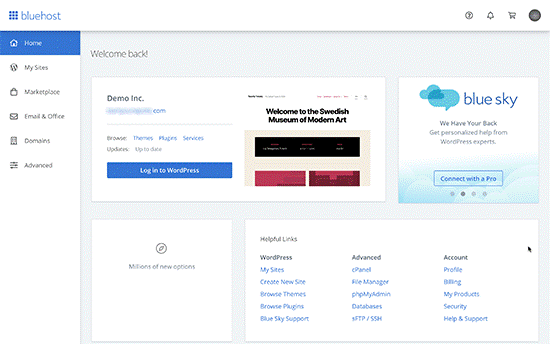 Basic
This package has a host limit of one website. This simply means that only one domain can be hosted on this plan. However, each domain is entitled to 25 subdomains with SSD storage capacity of 50GB. The basic plan gives you access to 5 email accounts with maximum disk space of 100MB. It comes with a subscription fee of $2.75 per month for new accounts and a renewal fee of $8.99 per month.
Plus
The plus package offers unlimited web hosting on all of websites, as well as unlimited SSD storage space, domains and parked domains (email accounts). To open a plus account as a beginner cost $4.95, to renew this plan cost $11.99/month.
Choice Plus
This package offers privacy in addition to your free domain as well as guaranteed CodeGuard daily data backups which is also free of charge, but valued in excess of $80 per year. The choice plus plan offers all features on show in the plus package. Monthly subscription starts at $5.45 and renews at $16.99/month. For those looking for the best web host option for a travel blog or for some other purpose, this plan is usually recommended.
Ecommerce
In addition to the features offered by the plus and choice plus packages, this ecommerce plan offers users a dedicated IP address. For beginners, monthly cost of $12.95 is required and a renewal fee of $23.99/month.
Irrespective of the sub-packages chosen under the shared hosting plan, upgrades are possible whenever.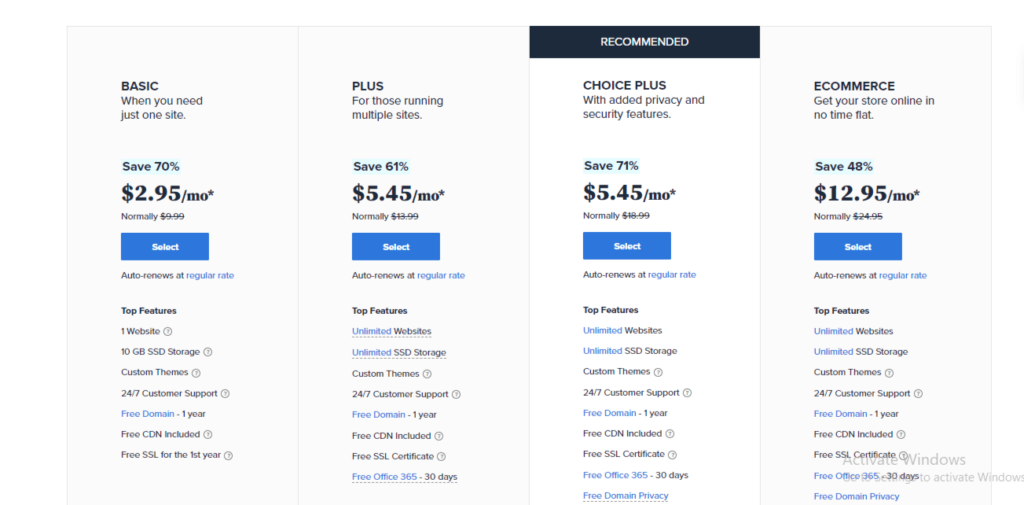 A Travel Blogger's Opinion Of The Bluehost Support & Assistance Team For Customers
Prompt response is essential no matter the hosting company you choose to go with. Bluehost offers a lot of do it yourself tips, videos and articles that eases the stress of troubleshooting issues when customers encounter challenges.
In event that this doesn't work and customer support is sought, it's always a relief to know that they (Bluehost) render live customer support and assistance around the clock. This could be done via chat or call.
Bluehost is always constantly improving. One of such improvement is their ticket-based support system that was recently abolished in favor of a customized individual-based approach that is achieved by either live chat or voice calls.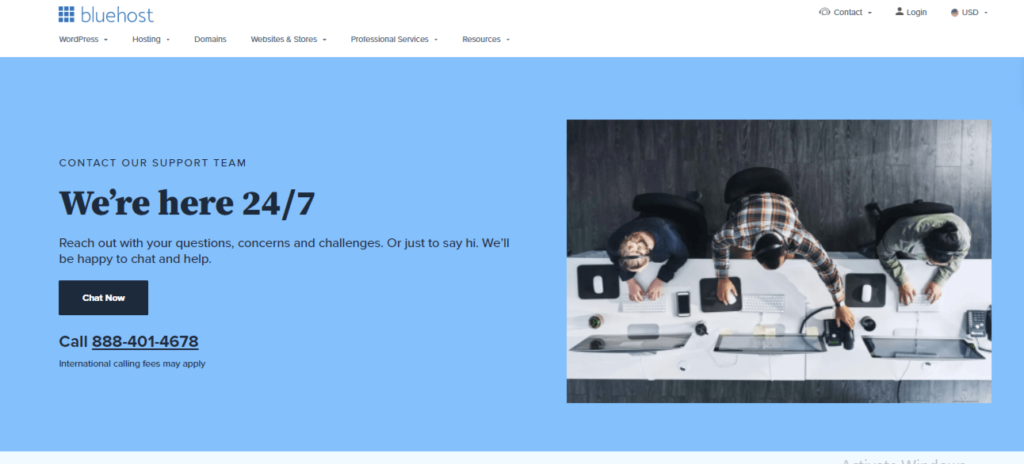 What's The Verdict? Is Bluehost The Solution?
It's a lot to digest, I know. And after analyzing all parameters covered above, you might be more confused than before you started, probably wondering where to go from here.
So as one who wants the best web host option for a travel blog, I'll try to make it easier for you. Bluehost is one of the best web hosting platforms out there and this ranking was done from a pool of its peers. The offerings on show is robust and can be customized to suit all your web needs, cutting across different criteria ranging from speed to reliability, not forgetting affordability.
No matter the hosting package you plan on going with, they all come with 24 hours live chat and call support to make access to their platform seamless.
Whatever your budget it, there's a plan customized to suit your needs particularly if you are starting out and looking for a web hosting solution that is dependable, offering you needed support to ensure that your account opening process is a breeze.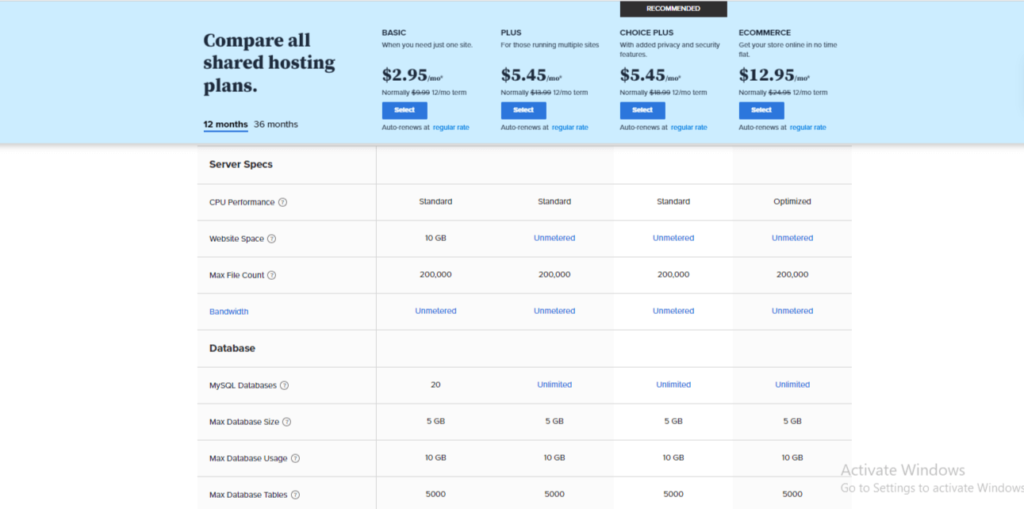 Is There A Possibility For An Upgrade
Irrespective of how you enter, you can always upgrade to a higher hosting plan when traffic to your website gets bigger. This was what I did when I was in search of the best web host option for a travel blog, as a travel blogger when visitors to my website from around the world increased, I got all the assistance I needed along the way.
Are you ready to up the speed with Bluehost? Select your Bluehost plan here.
You could go about it the way I did. I started from the shared hosting plan and worked my way up from there. The shared hosting plan is for beginners, it is very affordable, offering all the tools essential for success.
Exclusive Bluehost Discount
Whether a beginner, intermediate or a seasoned pro, Fuse Chronicles offers users a 70% discount which comes with a free domain.
This 70% discount is automatically applied and can only be accessed by using this link. This special offer doesn't apply when you log on directly to the Bluehost website.
Bluehost Web Hosting Frequently Asked Questions
I have exhaustively highlighted everything you need to know about Bluehost web hosting. However, I know that you might still have some unanswered questions so I put together the most frequently asked questions to help you on your way to making the right choice.
How beginner friendly is Bluehost?
Bluehost web hosting is one of the most starter friendly platforms for beginners. With just 1 click, WordPress is installed, which is not the case with other web host providers. Also, an unrivaled control panel which boost ease of use making account management a breeze.
Don't forget a 24 hours customer service rendition that is second to none. Offering both live chat and voice support.
Is creating an Ecommerce store on Bluehost possible?
Yes, this is possible. Bluehost offers one of the best, if not the best Ecommerce hosting web service provision. Their shared hosting plan is best for beginners looking to start their online stores.
It must be stressed that as soon as traffic to your store increases, then there will be a need to upgrade your Bluehost plan.
What if the traffic to my website is high?
It depends on the amount of traffic your website gets per month; you might need to upgrade your plan to something higher to prevent periods of downtime.
Why is Bluehost recommended for WordPress websites?
By far one of the largest hosting company in the industry, the Bluehost hosting platform is best configured to match WordPress websites and has been known to support WordPress for as long as possible. Ensuring peak performance. Due to this level of specialization, there's ease of solving challenges that might pop up.
Must I sign up with a credit card or are there other payment methods?
Credit cards are one of the methods used to make payment during the sign up process. However, there are other payment methods such as PayPal and the likes.
Which is a better option Bluehost or GoDaddy?
They both offer seamless web hosting services, however by virtue of their impeccable customer service offering, Bluehost takes the cake. From their dashboard to the complete onboarding user experience, Bluehost offers a more beginner friendly interphase. And when you factor in Bluehost's flexible pricing, it becomes impossible to compare them both.
Which is a better option between Bluehost, SiteGround and HostGator?
Like with every other hosting platform out there, there are pros and cons that must be noted.
Compared to its value proposition in relation to price, Bluehost offers the most affordable price at $2.75 plus a free domain compared with SiteGround that offers a monthly cost of $4.99 without a free domain option.
SiteGround conversely offers faster speed and more secured features. However, it is not accessible from all countries like Bluehost.
Bluehost is quite similar to HostGator in terms of hosting CPU resources, web functionality, online migration setup as well as monthly cost. It's worth noting that Bluehost's user interphase is better than that obtainable in both SiteGround and HostGator due to its WordPress integration which is custom designed.
Bluehost servers. Where are they located?
All Bluehost servers are housed in a 50,000 square feet data center in Utah, located in the United States.
Which is the best Bluehost plan for me?
It depends on your level of proficiency, if you are a beginner setting up a new website, like a blog or online store, then the basic package of the shared hosting plan is your best bet. An upgrade can be obtained in the future, when there's more traffic to your website.
Are you ready to up the speed with Bluehost? Select your Bluehost plan here.