On the 21st of April 2022 by 2:30pm, UC Berkley eases lockdown which was put in place as a result of anonymous tips received by the university's police department which was seen to pose significant threat to life and property on campus. This was met with a a lot of relief by students and staff of the University alike.
Why was the University put under lockdown?
The genesis of the situation was traced to a student who was placed on suspension for exhibiting behavior that was deemed threatening to the lives of fellow students on campus. This was obtained from email extracts sent to top UC manage staff as well university posts on social media.
This had been reported to UCPD by several sources, which prompted the start of an investigation whose objective was to seek to find out if there was any basis to threats made and if infact the University was in any danger of attack.
In his statement, the University spokesman Dan Mogulof said; "that an individual affiliated with the University issued threats directed at others, working and learning in the University and this threat was interpreted to be credible and serious."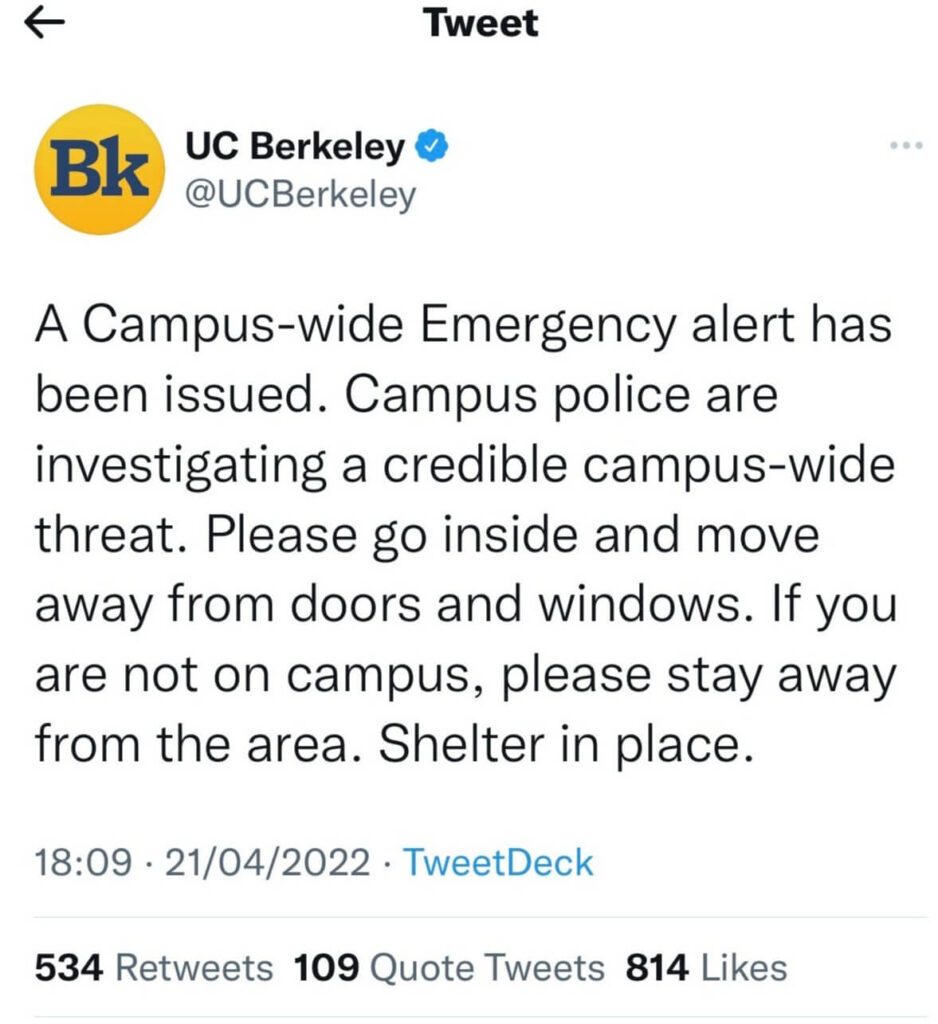 Advice To Students On Campus
While the investigation was being carried out, the University authority took it upon themselves to communicate the potential enormity of the situation to its students, while advising that they stay away from all doors and windows. This of course was in bide to keep all individuals on campus safe.
UC Berkeley Lockdown
The spokeswoman for the district, Trish McDermott said; "a soft lockdown had to be put in place because of the perceived threat to life and property. All online course activities was to go on uninterrupted. However, in person activities would have to be halted and University buildings put under lock and key."
This meant that all access points into the University were blocked and individuals who usually accessed the University from outside, such as teachers, administrative staff and students who lived off campus where housed in a shelter in place for their safety.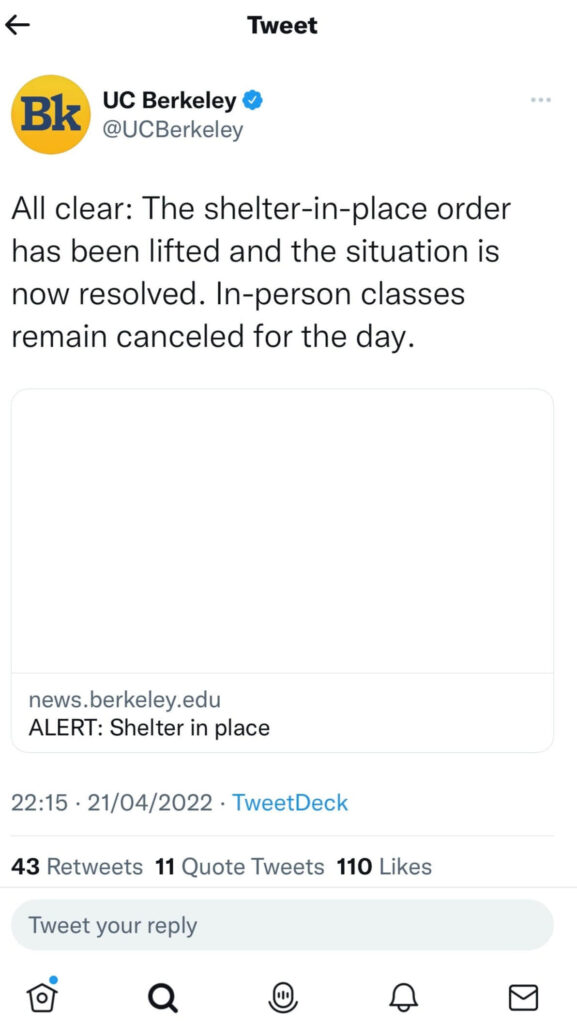 Complete services rendered at Berkeley campus, such as restaurants, libraries and parking garages were shutdown. Campus security were on hand to ensure compliance of these directives.
News of this impending threat leaked out to the district, this led to the hierarchy of the Berkeley Unified School District to institute a shutdown of all public schools in the neighborhood. From Berkeley High School, Berkeley Technology Academy, Willard Middle School, Emerson Elementary School, Sylvia Mendez Elementary School, Washington Elementary School, all the way to King Child Development Center.
University of California at Berkeley Police activity could be seen all over campus as they tried to both enforce the curfew put in place as well as carry out investigations into the whole affair.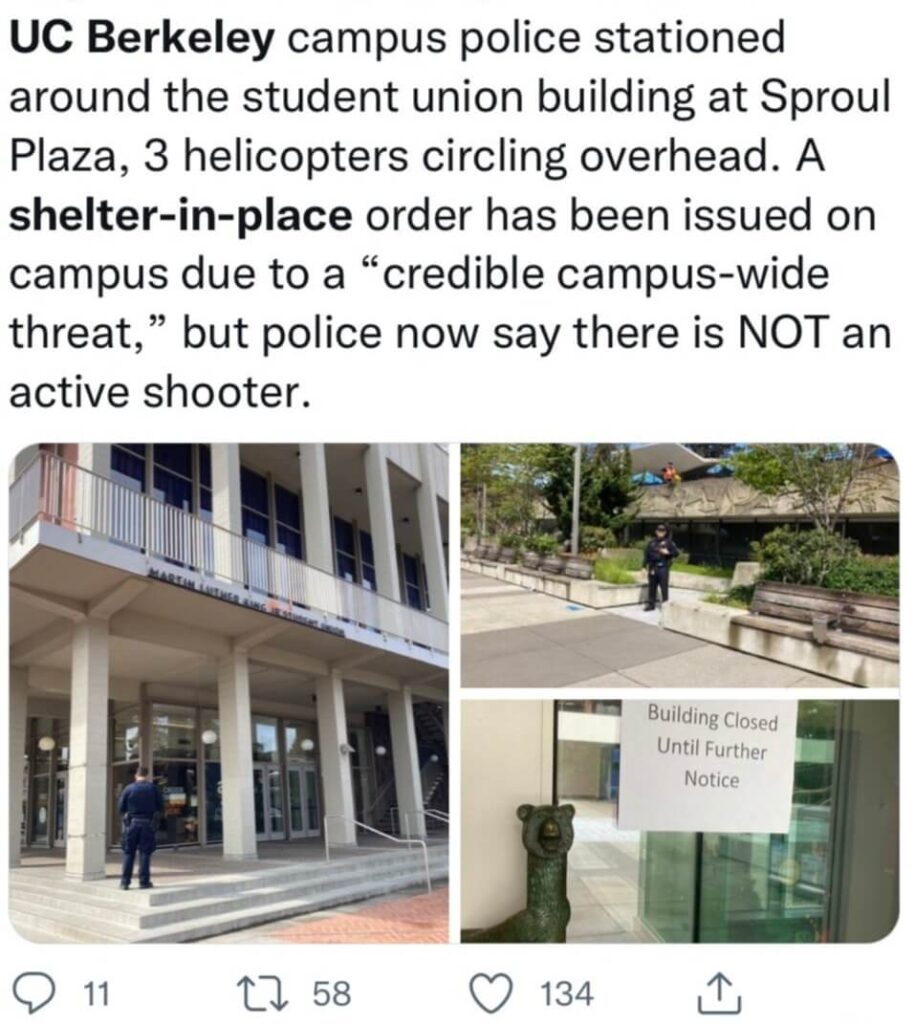 UC Berkeley Eases Lockdown
The individual in question, who issued the threat was located on Thursday the 21st of April 2022 and it was professionally determined that he posed no remote threat to life or property. So, the soft lockdown was lifted. This was released on the University's official twitter account. However, in person classes and campus operations would not resume until Friday, 22nd of April.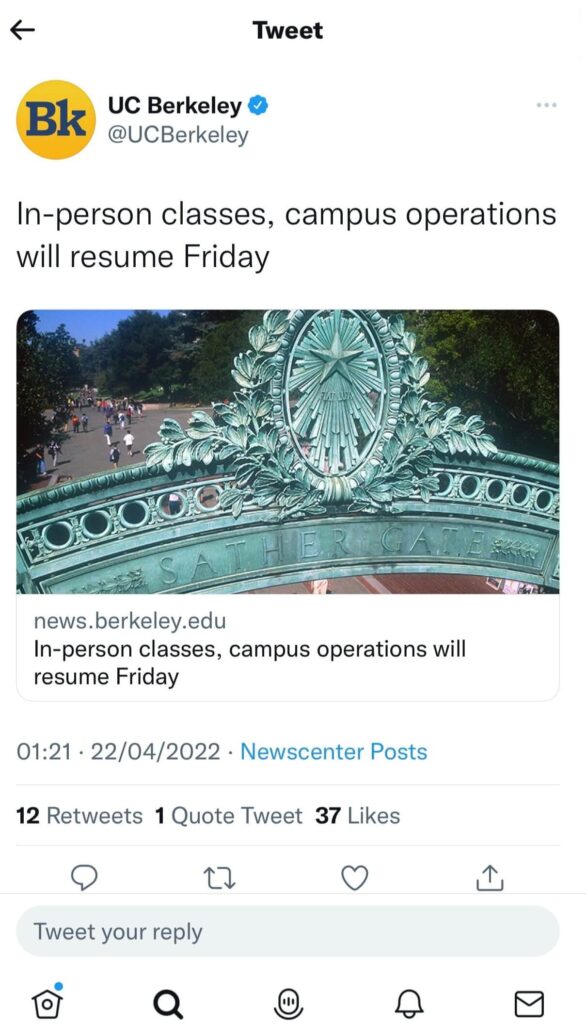 The University police declined when asked for a statement, also the University spokesman couldn't confirm whether the suspect was arrested or not.
The shelter in place used to enforce the lockdown has been shut down as of 2:30pm, since the lockdown has been eased. And normalcy is gradually returning on campus. Although investigation is still ongoing, business is expected to resume as normal from Friday since restrictions have been lifted.